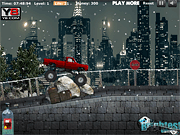 Prove your skills in this new winter driving challenge. Use arrow keys to balance and drive
the red truck and space to activate nitro. The game offers 10 intense and addicting levels,so do your best! Always buy nitro and keep the bottle filled, use it when you need
to speed up and jump over the endless holes! When you speed up on the levels you will hit frozen boxes that will overturn your truck!
Be the best driver from the game, and show your friends who's the boss! Good luck and have fun!